Vermont LGBTQ+ Resources
The Mission of Outright Vermont is to build safe, healthy, and supportive environments for gay, lesbian, bisexual, transgender, queer, and questioning youth ages 13-22.
---
Pride Center of Vermont (PCVT) is the region's most comprehensive community center dedicated to advancing community and the health and safety of Lesbian, Gay, Bisexual, Transgender and Queer (LGBTQ+) Vermonters.
---
Connecting rural LGBTQ people ​to build community, visibility, ​knowledge, and power. Founded in 2012 as Green Mountain Crossroads, Brattleboro Vermont-based Out in the Openhas hosted over 1,000 events, peer-led groups, forums and rallies, and collaborated with dozens of organizations, community groups and schools to help people learn about rural LGBTQ communities and push for institutional and systemic change.
---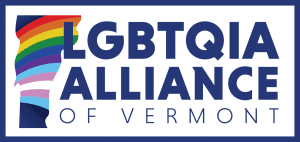 The LGBTQIA Alliance of Vermont is comprised of representatives from a range of LGBTQIA organizations and individuals from the broader Vermont community. Our mission is to anticipate and collaboratively respond to proposed and enacted laws, policies, actions, and community-level crises that impact LGBTQIA Vermonters.